Hello there, you daring devils, and welcome to the thrilling rollercoaster that is the world of BDSM. First order of business? We're sweeping out those dusty old misconceptions. BDSM isn't just a spicy flavour of the month; it's a lifestyle, a language, a dance as old as time. Hold on to your hats (or should I say, handcuffs?), because we're about to take a deep, irresistible dive into the world of etiquette and boundaries. We're stripping down to the bare essentials, going beyond the leather and lace, right into the heart of the matter. So buckle up, sweethearts, because Party Girls London is your guide on this saucy journey into BDSM. Let the games begin!
  

Key Takeaways
Consent: Consent isn't just sexy, it's the heartbeat of BDSM. Keep it dynamic, keep it ongoing, and keep it loud!
Safe Words: Your secret weapon in the battlefield of pleasure. Choose yours wisely, and don't be shy to use it.
Boundary Setting: It's the intricate lacework of BDSM, both tantalisingly delicate and deliciously sturdy. Talk about it, respect it, and remember – it's a dance, not a duel.
Roles and Responsibilities: In the heady cocktail of Dominance and Submission, it's all about trust, respect, and a lot of communication.
Aftercare: The comforting cherry on top of your BDSM sundae. It's not just about the whip and the chains, it's about the cuddles and the care.
Mastering BDSM Etiquette: The key to a safe, satisfying ride through the labyrinth of BDSM. Remember, in the grand ballroom of BDSM, Party Girls London is always here to guide you.
Oh, consent. It's not just the cherry on top of our BDSM sundae; it's the bloody sundae itself! Consent isn't just sexy, it's as essential as the air we breathe. Let's undress the nuances of consent in BDSM, shall we? It's a vibrant, pulsating pact between parties, one that shifts and evolves just as we do. No, it's not a one-time deal signed in lipstick on the bathroom mirror. It's a living, breathing conversation ensuring everyone enjoys the ride. It provides the safety rails in this tantalising amusement park of shared fantasies. And above all, it makes sure the only tears shed are ones of pure, unadulterated joy. So, let's delve deep, shall we? Into the heart of consent and its intoxicating essence in the mesmerising world of BDSM.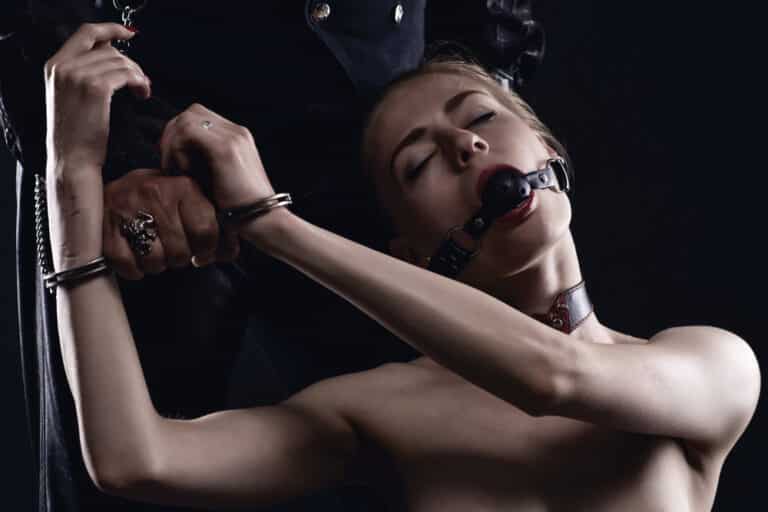 Oh, safe words, the compelling trump card in our titillating game of BDSM. These magic words can bring even the most fervent scenes to a grinding halt. Allow Party Girls London to spill the tea on these lifesavers in the thrilling arena of BDSM:
Red: Universally acknowledged as the full stop. This isn't a traffic light suggestion; it's an emergency brake.
Yellow: This little darling is your way of saying, "Hold your horses, cowboy. Let's take it down a notch."
Green: Essentially, the go-ahead for the dominant to proceed with the shared fantasy.
And a Party Girls tip, love: your safe word should be as common as a unicorn in a hen party, easy to remember, and undeniably clear. There is a better time to practice your Latin, darling!
Let's talk about boundaries, darlings. They're the intricate lacework of the BDSM boudoir, both tantalisingly delicate and deliciously sturdy. Unlike a fine French corset, they're designed to support, enhance, and, most importantly, respect one's comfort. Allow Party Girls London to guide you in the art of setting boundaries:
Introspection: Peek into your desires. Know your limits. Some like it hot, others prefer a simmer.
Communication: Paint your boundaries with bold strokes, darling. Be as clear as a vodka martini on a summer day.
Respect: Your playmate's boundaries are as sacrosanct as yours. No trespassing allowed!
Adaptability: Just as fashions change, so might boundaries. Keep the conversation as open as a bottle of bubbly at a soiree.
Remember, my dears, boundary-setting isn't a one-night stand. It's an ongoing tango of trust and communication.
Now let's strut into the fascinating tango of Dominance and Submission. It's a heady cocktail of power and surrender, control and acceptance. But remember, loves, safety and respect are our north stars in this bewitching dance.
Dominant's Dutie

s

: As the conductor of this symphony, the Dominant's task is to create a safe space for the Submissive to bare their desires and fears. They must respect limits, negotiate consent, and master the language of safe words.
Submissive's Duties: The Submissive, on the other hand, must provide the sheet music for this erotic concerto. They must voice their limits, wield their safe word like a shield, and deliver honest feedback to the Dominant.
Above all, remember that this is a dance, not a duel. It's about two (or more) people exploring their darkest desires together under the safety net of trust, respect, and consent. As your guide through this labyrinth, Party Girls London reminds you: safety comes first, but pleasure a very close second.
Aftercare: The Cuddle After the Storm
Aftercare, darlings, is the soothing melody after the symphony, the balm to the delicious sting of the whip. It's the cherry on top of our BDSM sundae, rounding out the experience with a comforting embrace. Let's get cosy as Party Girls pulls back the satin curtain on the world of aftercare:
Physical Pampering: Warm blankets, comforting cuddles, refreshing hydration, or even a TLC to playful war wounds.
Emotional Embrace: Heart-to-heart discussions, post-play debriefs, and loving affirmations to process the electrifying experience and rekindle the connection.
Checking In: An essential after-date follow-up. A simple text or call can work wonders to ensure everyone is still on cloud nine.
Remember, aftercare isn't an optional extra, it's the main course. It's what wraps up our BDSM banquet with a comforting hug, ensuring everyone leaves the table feeling satisfied, cared for, and eager for the next feast. Aftercare keeps the fires of trust and intimacy burning long after the candles have been blown out.
And there we have it, darlings. We've ventured through the labyrinth of BDSM etiquette, unravelling its intricate mysteries. From the raw sensuality of consent to the tender intimacy of aftercare, each aspect serves as a delicate thread in the silken tapestry of BDSM. Carefully navigating this enticing journey ensures an experience as safe as it is thrilling.
Mastering BDSM etiquette, my loves is akin to learning a tantalising tango. It's about the rhythm, the connection, the push and pull, and most importantly, the trust. So, put on your dancing shoes and get ready to explore your desires within the embrace of respect and boundaries. And remember, in the grand ballroom of BDSM, Party Girls is always here to guide you through the dance.
🎉 Thank You For Reading ! 🎉
Hey there, fantastic readers! We want to express our heartfelt gratitude for being part of the Party Girls London community. Your support means the world to us! 🙌 Now, we're thrilled to present our BDSM Escorts London – Your Kinky Guide. Inside, you'll find a treasure trove of insights, tips, and recommendations to enhance your experiences with London's BDSM escort scene. From the Kinky Fetishes to thrilling encounters and essential etiquette, we've got you covered.  Thank you for being amazing and supporting Party Girls London!